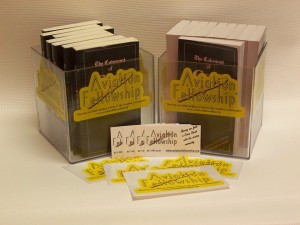 Aviation Fellowship is an organization of pilots, mechanics, and other aviation enthusiasts who love the Lord. Our Mission is to share God's Word.
For 15 years Aviation Fellowship Inc. has been distributing Bibles around the country from Arlington Texas Municipal Airport.
The founders of Aviation Fellowship are Kerry and Stephanie Mackey who had a vision to place New Testament Bibles at each of the almost 5,200 general aviation airports in the country.
Our current location has office and hangar space with Cothron Aviation at Arlington Municipal Airport for storage and distribution of the New Testaments.
Kerry Mackey has a passion for spreading God's Word thoughout the US. Canisters of Bibles (English and Spanish) are placed at different fixed base operators across the nation. These Bibles are free to anyone passing through these airports. Pilots, crew members, passengers, employees, anyone is welcome to a free copy.
Kerry Mackey is a commercial pilot with Instrument & Multiengine ratings and was trained in Arlington and Grand Prairie, Texas. The group that he founded has developed into approximately 50 pilots and aviation enthusiasts who have delivered some 25,000 Bibles to nearly 1,000 airports in 40 different states. Monthly meetings are help for fellowship, Bible Study and direction for the sharing of God's Word at air shows, fly-ins, and FBOs.
To Learn more about Aviation Fellowship, Inc. and find out how you can be involved, visit our website, or write to
Aviation Fellowship, Inc.
PO Box 150211
Arlington, TX 76012-0211
(817) 269-4158